Song List:
1. Down To The River To Pray –
Emily Lubitz
,
Sara Tindley
+
Cath Cooper
(acapella)
2. The River (by Joni Mitchell) –
Emily Lubitz
(vocals),
Daniel Freuden
(electric keyboard)
3. Going Down To The River (by Doug Seegers) –
Kim Cheshire
(vocals, guitar) 
4. Wills of the River (by First Aid Kit) –
Kirsten
Mackenzie
(vocals, guitar) +
Moala
(violin)
5. Moon River –
Ash Bell
(vocals, guitar),
Matt Bone
(double bass)
6. Women Across The River (by David Olney) –
Kim Cheshire
(vocals, guitar),
Kirsten Mackenzie
+
Moala
(harmony vocals)
7. The River (written by CC The Cat) –
CC The Cat
(vocals, guitar),
Josh Arent
(guitar) &
Matt Bone
(double bass)
8. The Old Macleay –
Lucie Thorne
(vocals, electric guitar)
9. Old Hat Creek (by Tiddas) –
Kirsten Mackenzie
+
Moala
,
Linda Cochrane
,
Robin Smith
&
Leah Bray
10. Send Me A River (by Sara Tindley –
Sara Tindley
(vocals, guitar),
Matt Bone
(double bass)
11. Warrell Creek Song (in Gumbayngirr language) –
Emma Donovan
(acapella) 
12. Cold River (by Danny Widdicombe) –
The Wilson Pickers
:
Andrew Morris
(vocals, guitar),
Danny Widdicombe
(vocals, guitar),
Sime Nugent
(vocals, harp),
Ben Salter
(vocals, guitar) &
John
Bedggood
(vocals, fiddle)
13. Down By The River (by Neil Young) –
Wilson Pickers
&
entire cast
!


 The River of Song
Cry Me a River, Moon River, Like a Bridge Over Troubled Waters… there are so many songs inspired by rivers. Bello Winter Music takes you down to the river to pray.
The beautiful Bellinger River that runs through the town of Bellingen has also inspired a one-off concert called River Songs that promises to be one of the highlights of the coming Bello Winter Music festival. Mullumbimby local, BAY FM Mystery Train presenter and polka-dot queen Mary Cannon has dipped into the deep well of wonderful musicians at Bello Winter Music to present an afternoon of music celebrating river themes. Seven asks some of the musicians featured in the River Songs concert what floats their boats…
What is the significance of rivers in music, and why do you think they have been the place or inspiration for songwriting and storytelling?
Emily Lubitz – Tinpan Orange:  To me, rivers represent transience and impermanence. They come from places far away and they move on to places far way. They aren't stagnant – even if they are still. A river is in motion. A river is also a place where life happens, where the animals drink, where the people wash, where the boats come in to trade, where the fish are caught for dinner. And when the river is dried up, well there is a whole other source of poetic imagery.
Sara Tindley: Songwriters and storytellers are dreamers and a river has always been a kind of dreaming place. Mystical. There is a sense of place and belonging around rivers. We are all equals standing on the bank of a river. 
Kim Cheshire: For millennia the river has been a universal symbol, whether it's the river of life, crossing the river Styx, the boundary between Earth and the underworld, a symbol of eternity or unity and much more. In the case of what I plan to sing about it represents restoration by the washing away of sins and starting anew in the form of baptism. These are universal themes and therefore useful tools for the songwriter/storyteller.
Jimmy Dowling: They are places for dreaming…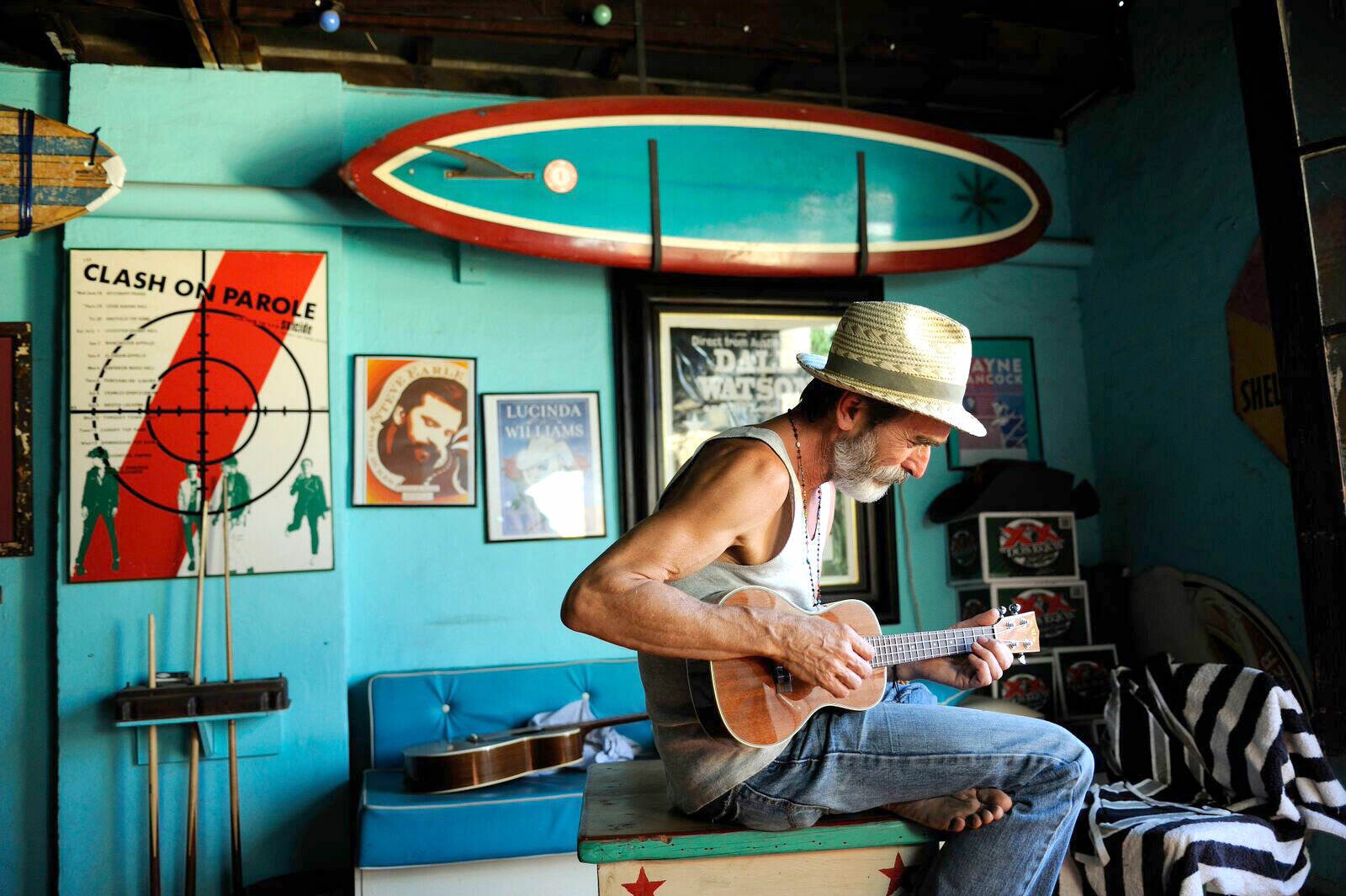 Photo: Kim Cheshire
Do you have a favourite river?
Ashley Bell (Starboard Canons): I grew up on the Clarence River in Tabulam, so it holds a very special place for me. I spent a lot of time with that river as a child and it was a big part of our lives.
What is your favourite river themed song?
Emily: It would have to be Joni Mitchell River. I love her so much! Also, Mama Kin's River As She Runs is so haunting and beautiful. It gets me in the guts.
Sara: It's hard to go past Joni Mitchell's River. I also love the Ry Cooder and VM Bhatt whole album A Meeting by the River. 
Ashley: I actually love the song Big River by Johnny Cash. My grandfather loved the Highwaymen and I grew up listening to that track a lot – about following a lady from town to town along the Mississippi.
CC The CAT: I'd have to pick Rivers of Babylon by Jamaican band the Melodians (1970). It's a Rasta song adapted from the Psalms of the Bible of when the Jewish people were exiled from Jerusalem following the Babylonian conquest. 
Kirsten MacKenzie: Old Hat Creek by Tiddas.
Have you written about a river? Tell me a little…
Sara: I have an unrecorded song Send Me A River. The river becomes a way of keeping an eye on and protecting someone I love and worry over.
Ashley: I have a song called Down The River that I wrote about the passing of a very close friend's son. The day of his funeral a great big group of people went down to the river in Mullum and floated off little paper lotus flowers to say goodbye. 
Cath Cooper – The Mid North: I wrote a song about a magical holiday romance a couple of years ago. The Never Never was the backdrop as we spent most of our time there that summer. One afternoon my squeeze built me a fire by the river to warm me up after a cold swim; it made me feel very special and formed part of the song I wrote about us and the river.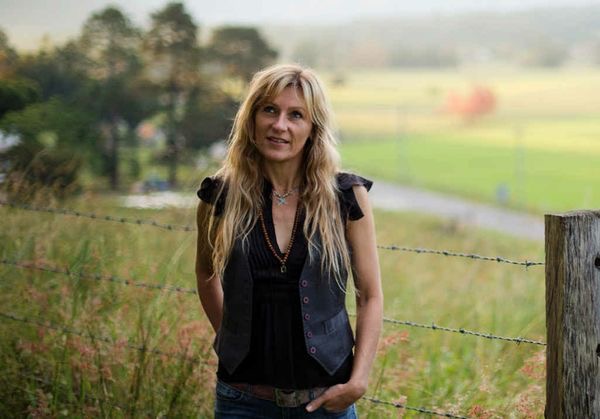 Photo: Cath Cooper
What are you looking forward to at Bello Winter Music festival?
Emily: Just being in beautiful Bello! And all the excellent music the festival promises. The people who put this festival on know what they are doing, and have proved their festival skills over and over again at The Mullum Music Fest, so I can't wait to see what they've done in Bello. 
RIVER SONGS concert at Bello Winter Music festival  Bellingen Memorial Hall – Sunday 5 July, 2015 www.bellowintermusic.com