Mullum Music Festival Showcases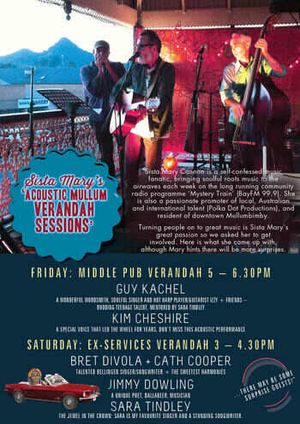 Mullum Music Festival
is a wonderfully diverse event which happens every November in the northern NSW town of Mullumbimby. Over the past 7 years, it has grown (not too much) and now there is a sister festival happening in Bellingen.
A couple of years ago,
Glenn Wright
(MMF/Bello Winter Festival Director) approached me about presenting local performers in acoustic mode on the verandahs of The Middle Pub and the Ex-Services Club:
The Verandah Sessions 
were born. I selected wonderful musicians, who were not already on the bill - to add even more local participation.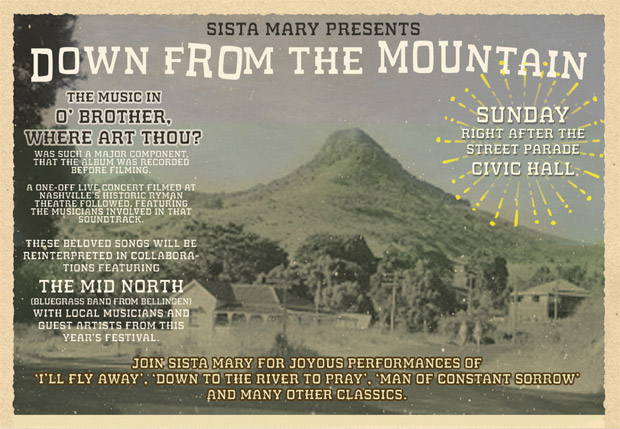 Down From The Mountain
is a filmed concert performance of songs from 'O Brother, Where Art Thou?' I have wanted to present these songs in a Showcase with Bellingen's Bluegrass band
The Mid North
and various artists from this year's Mullum Music Festival for quite sometime.
It all came together beautifully in the Civic Hall around a single home-made microphone!
"I particularly enjoyed the Sunday this year, kicking off with Bay FM's Mary Cannon's Down From The Mountain Concert. Years in the planning, Cannon orchestrated a rotating cast of locals and festival performers to run through the songs from the soundtrack to
O Brother, Where Art Thou
? With heartfelt performances from the likes of
Sara Tindley
,
Suzannah Espie
,
Jenn Grant
,
Jimmy Dowling
,
Hat Fitz
, and a massive all-in singalong, all staged around the one microphone, old-timey style, the show was a real treat and played to the Civic Hall's acoustic character perfectly."
Marty Jones, Rhythms Magazine 12/15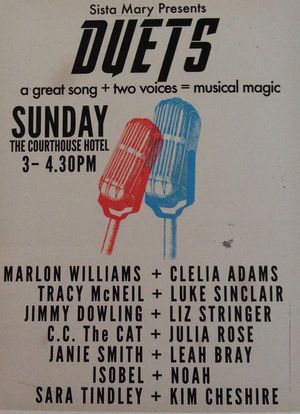 This last MMF I was offered the opportunity to create whatever I wanted. This became the
Duets Showcase
"Local DJ Mary Cannon put together a Duets' concert in the local Courthouse Hotel, which challenged the musicians with unorthodox settings and collaborations. Local and festival artists were paired up in one-off combinations, which provided thrilling results. Locals 
Jimmy Dowling
, 
Kim Cheshire
 and 
Sara Tindley
 stealing the show (along with honorary local 
Marlon Williams
, who was everywhere!)"
Marty Jones, Rhythms Magazine 12/14